Why Just Parasail When You Can Go Sky Surfing?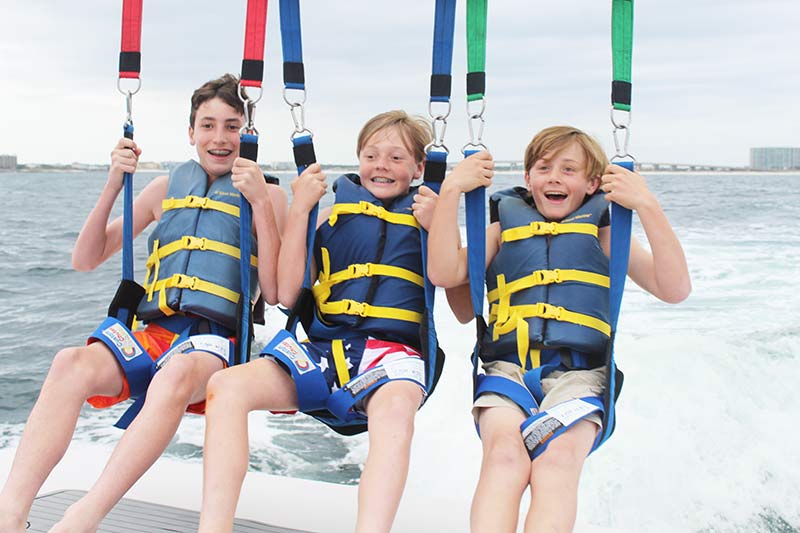 What Makes Sky Surfer Different?
It's not parasailing…It's SKY SURFING!
The Sky Surfer experience is like no other on the Alabama Gulf Coast (or the world)! Make priceless family memories on an exciting adventure aboard our one-of-a-kind Ocean Pro vessel, where you'll often see pods of bottlenose dolphins and majestic sea turtles swimming near the deck. Our experienced crew will help you safely surf hundreds of feet into the sky to enjoy a breathtaking view of all of Orange Beach and everything beyond. We have spent years learning how to offer the best customer service on Alabama's beautiful beaches, so step aboard Sky Surfer to become part of our high-flying family with an Orange Beach parasail adventure!
What to Expect with Our Orange Beach Parasailing Experience
Your Sky Surfing experience begins in the comfortable seats of our beautiful 15-passenger, USCG-Inspected parasailing vessel, where you will meet the stewards of your adventure: our experienced Captain and one of our friendly, fully trained deckhands. After safely securing each passenger into a harness we'll head for the Gulf, where flyers will be seated on our spacious, padded back deck and secured to the chute.
You will then be gently lifted off the deck to surf high into the sky! All you'll need to do it sit back, relax, and enjoy your flight hundreds of feet over the beautiful Alabama Gulf Coast. You can even ask our experienced Captain to fly you just low enough to dip your legs into the water before soaring up back into the sky!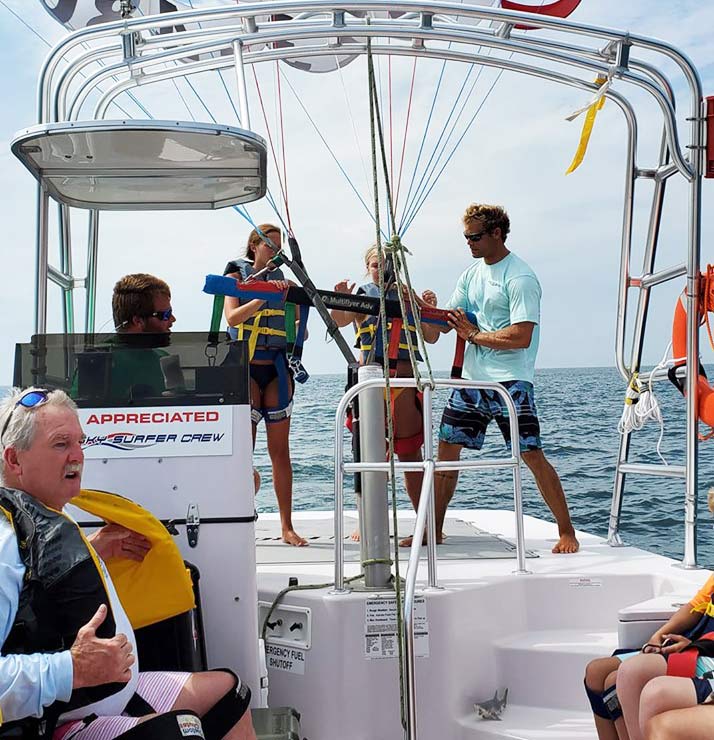 Meet the Crew of Sky Surfer
Capt. John Mattis, started his maritime career more than 30 years ago in the U.S. Coast Guard. He is a former Marine police office and parasail captain for 15 years. Your safety is Capt. John's number-one priority! He loves parasailing because he knows there is nothing better than putting smiles on faces and creating lifelong memories for customers! When he is not on a parasail boat you can usually find him cruising on his own boat with friends and family. Some say he has passed more buoys than telephone poles!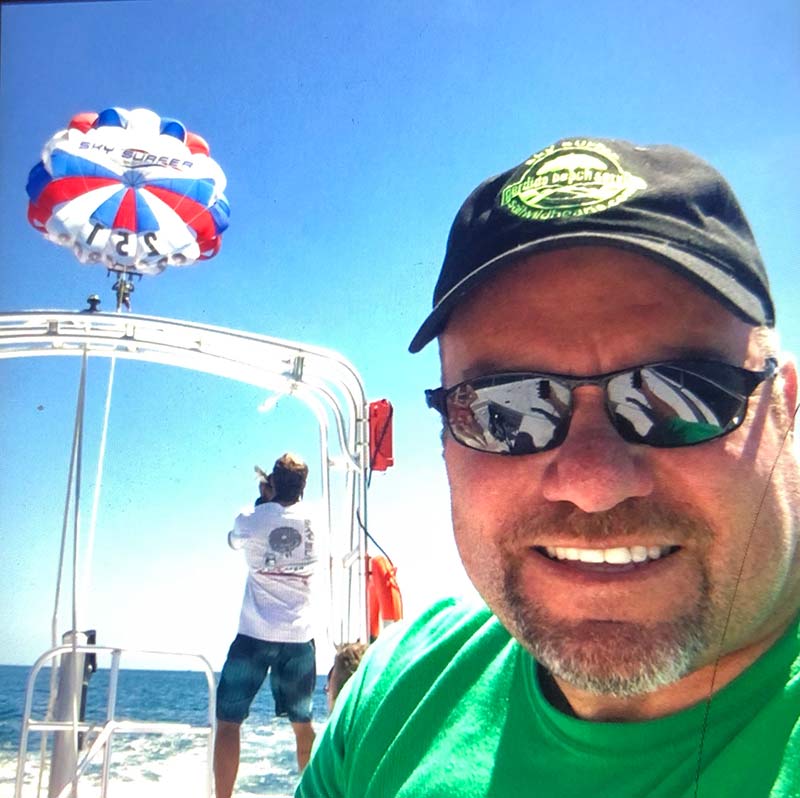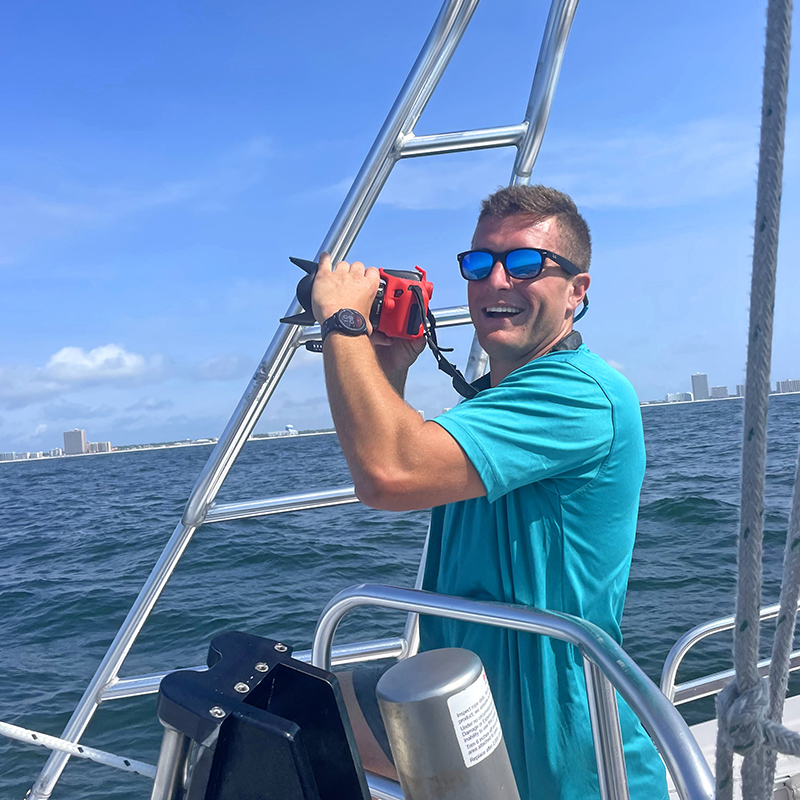 Deckhand Trystan has been a mate for five years, enjoys making sky surfers laugh, and loves basketball and time with his family.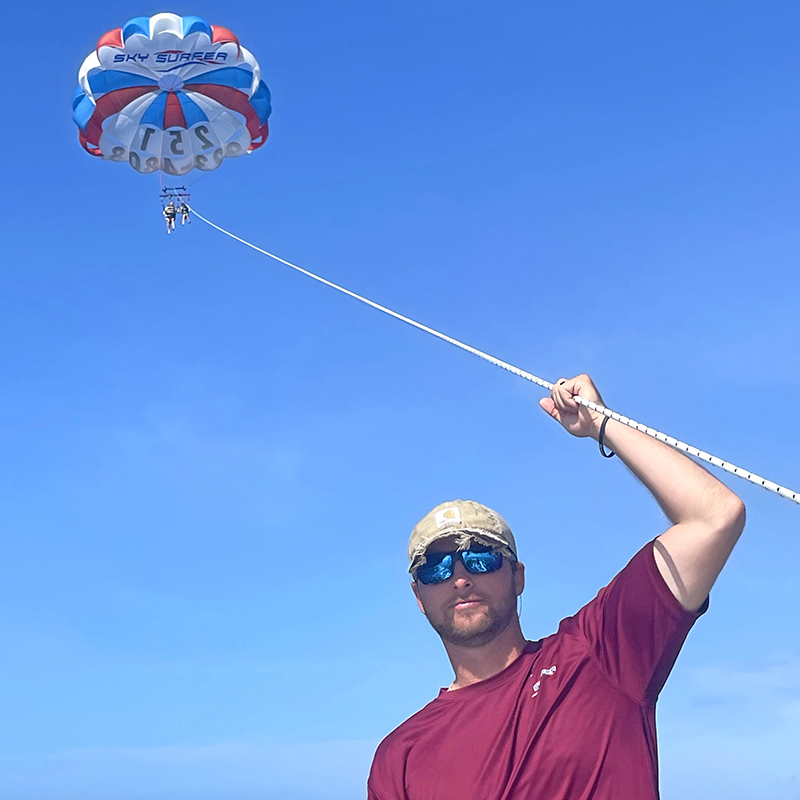 Cancellations
Though it may be raining where you are, it may not be at the Sky Surfer Parasailing location. If you have any concerns regarding the weather, please call ahead. The captain has the final determination to cancel due to weather, rough seas or mechanical difficulties. Customers will receive a full refund with 24 hours' notice of cancellation. Customers will also receive a full refund in case of operator cancellation due to weather or other unforeseen circumstances. Contact us by phone to cancel or inquire about a cancellation. No-shows will be charged the full price.